When we want to describe the best way of keeping something safe, we say we are putting it under lock and key. For centuries, locks have been symbolic of both security and safety, and nowhere is this truer than house locks and keys. Yet, so many home and property owners don't actually pay a lot of attention to the status of their house locks or keys…until there is a problem. At Locksmith Pro we specialize in an array of residential locksmith services, including door lock replacement, lock installation, house re-key services, deadbolt installation services, and more.
It is important to remember that there are many reasons you might need a member of our mobile locksmith team to come to your home. Unfortunately, one of the most common calls we take is for house lockout issues. These can often be due to simple neglect (such as those horrible moments when we step outside to grab the paper or get something from the car and the door closes and locks us out), but lockouts are also due to key breakage, lock issues and more. In such moments, it is really beneficial to have a reliable and skilled residential locksmith available, and that is one area where we are glad to step up and help.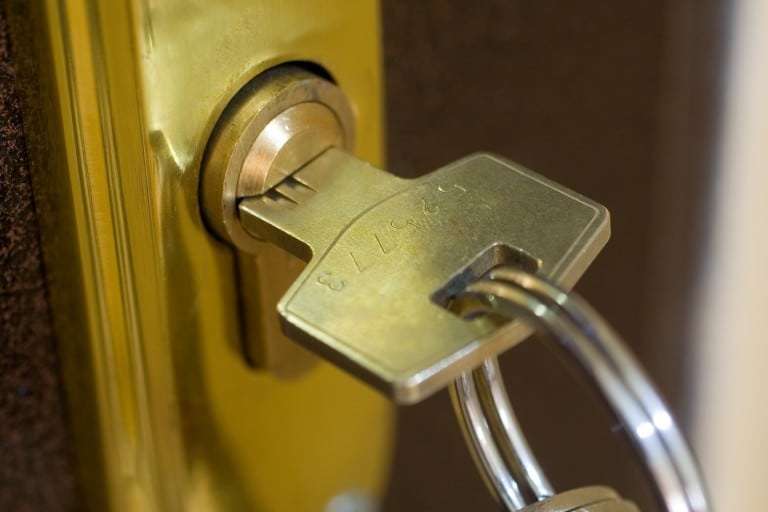 House Lock & Key Maintenance
However, we also want our clients to look at house lock and key issues as part of regular maintenance and upkeep. This is because their door locks are the actual, no-nonsense, first line of defense against home burglaries and other crimes. To ignore the conditions of the locks and keys until emergency locksmith services are needed is running a great risk.
When to Change a Lock or Key
Take a moment to ask yourself when you would consider getting a new lock installation, deadbolt installation or house re-key done. It is likely that your answers include some fairly common reasons:
Also consider some of these very common reasons for using residential locksmith services:
Rekey Locks or Do a New Lock Installation
Rekey or replace? Which is the right solution? As you might guess, our residential locksmith services include both options, and we take the time to consider your actual needs before we do the work. Let's look at the house re-key first…
When we rekey locks, it means we take out the lock cylinder and remove the pins the springs. This lets us replace those parts to work with a new key. It is only if a lock is totally malfunctioning or broken, or the style is no longer what you want, that it needs to be replaced. If you want to keep the whole setup in place and in service, we can rekey locks throughout the house.
The end result is that you have a key that works with every door that we treated. Why would people opt for the rekey services? Usually, we hear our customers say that they needed a locksmith for a house because they just bought the property. They don't know who might have a key, and for safety's sake, they decided to hire our residential locksmith to get the whole house on to a new and single key. We can then cut as many new keys as needed for the family.
This sets the stage for total key control, and will prevent former owners, contractors, neighbors or unwanted visitors from walking around inside the property between the day you buy the property and the day you move in.
Also, when you call us to rekey locks, our residential locksmith is going to assess the conditions of all of the locks on the main entrances. This can allow them to be adjusted or repaired as they are rekeyed. If our team feels that a lock will not continue to operate effectively, even with rekeying, we will suggest a replacement. That new lock can often be keyed to match the other functional locks! Now that we've mentioned replacing locks, it's time to consider why that might be suggested by our lock installation experts.
If a lock is to be replaced, it too can be for various reasons. The most common reason we get a call for lock installation services or door lock repair is because a lock is malfunctioning or working only with difficulty. It is entirely possible for any lock to just wear to the point where we can no longer rekey it, and replacement is the only option. However, lock installation can also be done for security purposes.
Just as a house rekey may be done because there are substandard or lower quality locks on main entrances, we can do lock installation for the same reason. As the actual frontline of defense against home invasion crimes, your locks do need to be the very best possible. Don't take for granted that the right sort of locks have been installed on any of your doors. This goes for the locks on the front and rear entrances, but also locks on the doors leading from the garage and into the home or sliding glass or patio doors (such as French doors).
If you see that your locks are low quality, or they are at a point when you think they are no longer adequate to your needs, replacing is a good solution. Our residential locksmith can also do lock installation if you just want more attractive locks, or even if you find you need locks that need to be placed lower because there are disabled people entering and exiting the home each day.
Lock Installation, Installing a Deadbolt or Rekey Locks
As you can see, there are many reasons that you might get in touch with our locksmith for house related work such as lock installation, installing a deadbolt or to rekey locks. While a house re-key is usually a more affordable solution, if lock installation guarantees your home's safety and security, it is the wise choice.
What about DIY solutions? As you might guess, as professionals we wouldn't advocate for any of the DIY options where rekeying and replacing are concerned. Far too often, homeowners think it is not at all difficult to invest in a new lockset and just slap it into place where the old one was located. The problem with this outlook is that a lock installation or the use of a house re-key kit is not as easy or as reliable as it may appear.
Just consider that you need to have the proper tools. You need to be able to use the templates effectively and without fail. That means drilling holes in doors, dealing with door jambs and ensuring everything lines up without any sort of flaw or failure. Installing a lock on the front door, back entry or door from the garage is not a matter to be taken lightly, and using an easy to override re-key solution is just a disaster waiting to happen.
In fact, waiting until anything goes wrong with your house locks or keys is a very unwise approach to ownership. While we offer reliable 24-hour locksmith services, including house lockout solutions, you may not want it to come to that. There is not much worse than being stuck outside of your house, even though we will be arriving shortly, knowing you could have prevented the issue. Even worse is coming home to signs of a break in and your home devastated by theft or vandalism.
Fortunately, you can use a proactive approach to house lock and key issues through our residential locksmith services. How? By considering house locks and keys like you do traditional maintenance issues.
Looking at House Lock and Key Services as Maintenance
What sort of maintenance do you regularly perform on the exterior of your home? If you are like millions of others of homeowners, you focus on major regions of the house such as roof, the foundation, patios and walks, the siding and the doors and windows. You make a point of replacing wood or materials that are failing or worn. You take the time to make certain that different devices or systems are working just as they should. Whether it is the storm door on the front of the house or the dryer vent at the back, you never skip on safety and you always maintain the premises.
Sadly, this good sense seems to fail many property owners when it comes to the locks on their doors. For many, if the locks are working okay, they are just taken for granted. This is why our residential locksmith providers often find locks that are original to the property, locks that are not adequate to the doors they secure, or locks that are showing signs of failure or weakness.
We never tell a homeowner to replace a lock because it is old or unsightly. What we do say, though, is that locks may need replacement or rekeying as part of adequate home maintenance and security. We are glad to provide residential locksmith services well suited to the age, condition and performance of the locks all around the home.
House Re-Key or New Lock Installation
When you look at door locks and keys as an essential component of home maintenance, you can see our point a bit better. Why risk the lock that won't turn when you need it to, the key that snaps in the lock, or the lock that cannot keep out unwelcome intruders? We can easily come out and do a house re-key or new lock installation.
Keep in mind that our goal is never sales. Our goal is to be a one-stop destination for all things relating to your residential locksmith needs, and that includes the unwelcome emergency locksmith services, too. Ultimately, we want a long-term working relationship with customers in order to provide them with any 24-hour locksmith solution. Whether it is residential locksmith work or even emergency car lockout services, we want to help you avoid or overcome those issues that relate to the locks and keys you count on every day. At Locksmith Pro we offer you an easy method for maintaining the security of your home, and we are glad to consult with you about a multi-layer security solution through good locks, deadbolts and other options – whether it begins with a home re-key or new deadbolt lock installation.